The CJLC offers three types of classes.  
Classes designed to help students at different Japanese language proficiency levels learn natural and authentic Japanese. (6 classes per level)   
Classes designed to help students learn about Japanese society, culture and modern Japanese life in a single group (regardless of Japanese proficiency levels) through lectures, experience, communication, etc. (2 to 3 classes)   
 A lecture about Japanese culture and society in English with Japanese undergraduate students. (1 class) 
By combining these 3 types of classes, students at the CJLC can acquire a practical and natural Japanese language ability. They can also obtain not a superficial knowledge, but a deeper knowledge and understanding of Japanese culture and society based on their real experience. By taking small group classes tailored according to each student's Japanese proficiency level and needs in a comfortable environment, every student can develop his/her Japanese language ability effectively in a short time. Our teachers use English to explain grammar and to give instruction for complete beginners. Therefore, even if a student has never learned Japanese before, he/she can feel relaxed in these classes.
AGU uses the tutor system for international students. Every exchange student has one Japanese student tutor and can get support for his/her studies and life in Japan from this tutor. Also, Japanese student Learning Assistants (LAs) participate in Intercultural Communication class, so exchange students have opportunities to talk about various topics with them. Through this, they both develop their Japanese conversation ability, and also get to know how Japanese young people think today.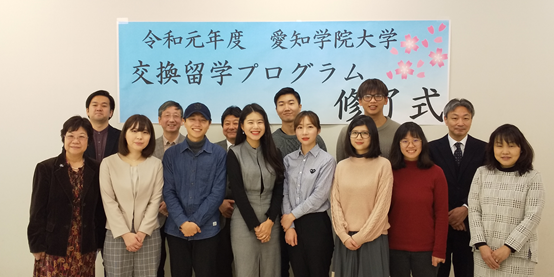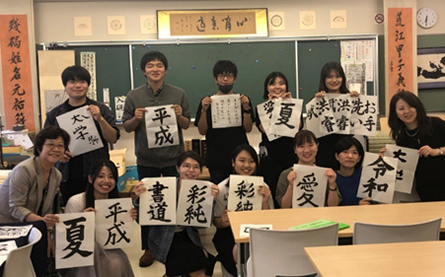 【2022-2023 Academic Calendar】  
2022 Spring Semester
| | |
| --- | --- |
| First Day of Classes | April 7 |
| Golden Week Vacation | May 5 |
| Last Day of Classes | July 22 |
| Examination Week | July 25 – July 30 |
| Closing Ceremony | July 20  |
2022 Autumn Semester
| | |
| --- | --- |
| First Day of Classes | September 16 |
| Winter Vacation | December 26 – January 9 |
| Last Day of Classes | January 19 |
| Examination Week | January 23 – January 28 |
| Closing Ceremony | January 20 <tentative> |
【Example of Time Schedule】
 

Monday
Tuesday
Wednesday
Thursday
Friday
1st session 9:30 – 11:00
Beginners' Class
Comprehensive Japanese A I
Presentation and Speech
Comprehensive Japanese A III
Experience Japanese Culture and Society
Conversation and Kanji A
Intermediate Class
2nd session 11:10 – 12:40
Beginners' Class
Intercultural Communication (with LAs)
Comprehensive Japanese A II
Comprehensive Japanese A IV
 
Listening and Reading A
Intermediate Class
Comprehensive Japanese B I
Comprehensive Japanese B II
Comprehensive Japanese B IV
3rd session 13:30 -15:00
Beginners' Class
Japanese Culture and Society 
Intermediate Class
Conversation and Kanji B
Comprehensive Japanese B III
Listening and Reading B
  *Subjects and class levels may vary according to participants.    
【Goal of Each Subject】  
| Subject Name | Level | Credit | Goal and Content |
| --- | --- | --- | --- |
| Comprehensive Japanese A I – IV | Beginner | 1×4 | Students learn vocabulary and grammar with a textbook and acquire a well-balanced training in the 4 language skills: speaking, listening, reading, and writing. |
| Conversation and Kanji A | Beginner | 1 | Students aim to get accustomed to speaking in Japanese and to develop daily conversation ability. Students aim to acquire a basic knowledge of Kanji and to read and write basic Kanji. |
| Listening and Reading A | Beginner | 1 | Students aim to develop their listening ability to understand daily conversations and/or simple monologues. Students aim to develop their reading ability to understand simple writings about daily topics and also aim to write or speak about themselves and their thoughts. |
| Comprehensive Japanese B I – IV | Intermediate | 1×4 | Students learn vocabulary and grammar with a textbook and acquire a well-balanced training in the 4 language skills: speaking, listening, reading, and writing. |
| Conversation and Kanji B | Intermediate | 1 | Students aim to acquire conversation ability to speak longer about places, situations, and people. While learning Intermediate level Kanji and vocabulary, they also aim to obtain appropriate information from various material which contains Kanji in their daily lives in Japan. |
| Listening and Reading B | Intermediate | 1 | Students aim to develop their listening ability to understand various types of long conversations and/or monologues. Students aim to develop their reading ability to understand various types of long writings and aim to express their own thoughts and opinions in Japanese. |
| Intercultural Communication | No Level Setting | 2 | Through communication with Japanese student LAs, exchange students deepen their understanding of modern Japan and aim to acquire practical communication skills. (English and Japanese are used for explanation and instruction in the class.) |
| Presentation and Speech | No Level Setting | 2 | Through preparation for presentations and/or speeches of the topics in Intercultural Communication class, students obtain a deeper understanding of the difference between spoken Japanese and written Japanese and acquire ways and skills to make presentations and/or speeches in Japanese. (English and Japanese are used for explanation and instruction in the class.) |
| Experience Japanese Culture and Society | No Level Setting | 2 | Through lectures and activities outside the classroom, students experience Japanese culture and society by themselves and deepen their understanding. (English and Japanese language are used in lectures and teaching materials.) |
| Japanese Culture and Society | | 2 | Students take 15 lectures on various topics related to Japanese culture and society (e.g.: Anime, Origami, religion, Japanese language, etc.) in English with Japanese undergraduate students to deepen their understanding of Japanese culture and society. |